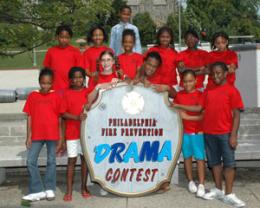 Registration for the 2023 Introduction to the Performing Arts Camp is now open.
Winner of Pennsylvania Recreation & Park Society's Excellence in Programming Award Philadelphia Parks & Recreation's citywide camp, Introduction to the Performing Arts, is a specialty camp for children ages 6 to 11 (must be 6 years old by July 1, 2023) who have an expressed interest in the Performing Arts.
Children will have the opportunity to take classes in movement, drama, & music. The campers will also perform in a presentation at the end of the six-week camp. This unique experience gives youngsters the chance to perform in a professional space. Campers will also take performing arts related field trips.   Camp is held daily from 9AM – 2PM from July 5th to August 12th of 2022. Lunch and snack will provided daily.
The cost of the camp is $300.00 for the entire six weeks.   Aftercare till 5pm is available for an additional $30 per week or $150 for all six weeks if paid before camp begins).
Locations
There are four sites for the Introduction to Performing Arts Camp:
Holmesburg Recreation Center at Rhawn & Ditman Streets in Northeast Philadelphia.
Francis Myers Recreation Center at 5800 Kingsessing Street in Southwest Philadelphia
Waterview Recreation Center at Rittenhouse & McMahon Streets in Northwest Philadelphia (Germantown)
Hawthorne Cultural Center, 1201 Carpenter Street in South Philadelphia
 Once you pre-register online and your registration is submitted, you will receive an immediate copy of your application.   An email will arrive in mi-April setting up an individual parent/camper orientation.   For new campers, we request a birth certificate and a letter of recommendation from a teacher, neighbor or relative who believes a performing arts camp is a good fit for the child.   
Thanks for your interest.    Questions?    Contact Bill Powell, Performing Arts Coordinator at 215-685-3585 or email:  william.powell@phila.gov
To register, scroll to the bottom of this webpage.  Under Performing Arts Camp, click "forms".     Scroll to the Introduction to Performing Arts form and click it.   You will be taken to the registration page.