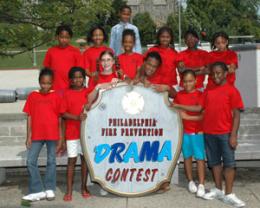 Registration for the 2018 Introduction to the Performing Arts Camp Opens February 2, 2018
Winner of the 2007 Pennsylvania Recreation & Park Society's Excellence in Programming Award Philadelphia Parks & Recreation's citywide camp, Introduction to the Performing Arts, is a specialty camp for children ages 6 to 10 (must be 6 years old by July 1, 2018) who have an expressed interest in the Performing Arts.
Children will have the opportunity to take classes in movement, drama, & music. The campers will also perform in a presentation at the end of the six-week camp. This unique experience gives youngsters the chance to perform in a professional space. Campers will also take performing arts related field trips. Prospective campers register for the camp in the spring of 2018 and the camp is held daily from 9AM – 2PM from July 2nd to August 10th of 2018. Lunch and snack will provided daily.
The cost of the camp is $300.00 for the entire six weeks. There is aftercare service available until 5PM for an additional fee of $30 per week or $150 in advance for all six weeks.
Locations
There are four sites for the Introduction to Performing Arts Camp:
Holmesburg Recreation Center at Rhawn & Ditman Streets in Northeast Philadelphia
Hawthorne Cultural Center at 12th & Carpenter Streets in South Philadelphia.
48th & Woodland Playground in Southwest Philadelphia
Waterview Recreation Center at Rittenhouse & McMahon Streets in Northwest Philadelphia (Germantown)
You must click below to register for camp. Once you register online and your registration is confirmed, your spot is secure. You will receive a letter via mail in late May regarding the June parent orientation night. All fees will be due on that evening.  Remember, you will NOT receive a letter until June of 2018.   Parent Orientatons for 2018 will be held on Monday, June 11 (48th & Woodland), Tuesday June 12 (Waterview), Wednesday June 13 (Hawthorne) and Thursday, June 14 (Holmesburg).  Attendance for parents is mandatory.
For more information, please contact Bill Powell, Performing Arts Coordinator at 215-685-2245 or william.powell@phila.gov
Registration for Intro camp closes June 1, 2018
Registration: Click here to register for the 2018 Intro to Performing arts Camp.